Re: 99' Burb Front Brake R&R
---
[ Follow Ups ] [ Post Followup ] [ OurSUV.com ]
---
Posted by Ben (76.14.17.32) on 12:25:41 10/19/07
In Reply to: 99' Burb Front Brake R&R posted by Guy
My startup is associated with Sanford U. CTO is a researcher there and partner is on the NIH
neurology board (startup is dieing, dead...lack of funds).

But self insured, so out of my pocket.

My orthopedic surgeon is the go to guy for the local professional sports and university teams, so
he does several a day, most days.

I'm not going to have the operation. Am beating the rehab goals by a long shot, but side to side
still worrisome (that tear must be in that direction).

Doc says since no paycheck on the line, best to forgo any operation. He believes the original is
always best, as he can alway put in a replacement. Plus "you are in good shape for a guy your age"
(that back handed compliment, again).

Background in industrial controls and computing, now getting medical background and must say I
thought I was cynical about bean counter management, but medical is yet another level
higher in badness (financial management metrics vs product/service management metrics).

Back on brakes, it's not hard, but important to do it right. Too easy to mess up if not careful,
especially if you are going to change the calipers or open the hydraulic system in any way, other
than to bleed them (that is important too).

Here is a quick snap shot of the process. Will post more detail later.

This is the basic, but different caliper architecture. This one has a pad cage, which does
pad location duty. The one on our era Subs has the caliper do everything and is the problem. This one
is a Ford Ranger, but caged caliper design are pretty much the same.

It also shows the "C" clamp, bleed hose and catch jug. Took about 20 minutes to do both front pads
and bleed about 1 quart through both calipers & MC.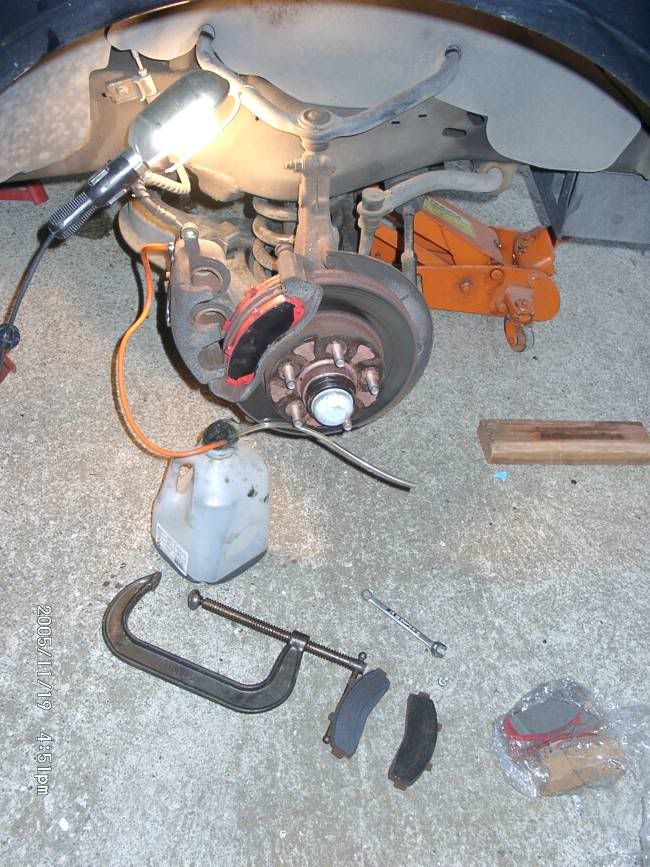 These are from a 1997 Sub K1500 (local forum member) and is the first one I've helped put Praise Dyno on. This is the all in one caliper.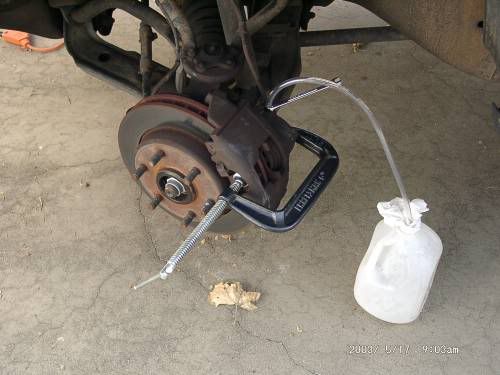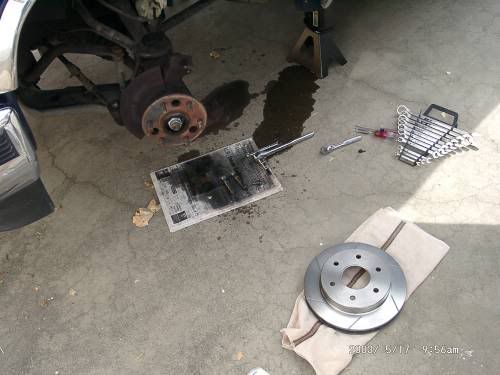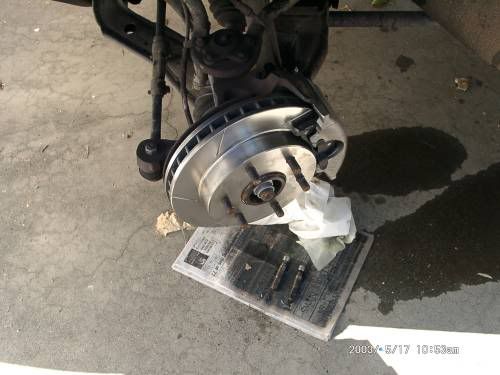 ---
c-clamp - Guy 12:12:02 10/20/07 (0)
---
---
[ Follow Ups ] [ Post Followup ] [ OurSUV.com ]